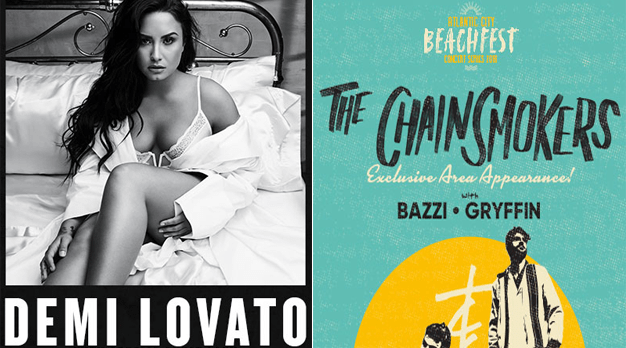 The Atlantic City Beachfest Concert Series  continues with Demi Lovato 7/26 and The Chainsmokers on 7/29 on the beach in Atlantic City! Purchase tickets NOW at ticketmaster.com !
CLICK HERE for a chance to WIN with 95.1 WAYV!
Join the entire 95.1 WAYV on air staff as we host the official "AC BEACH CONCERT PREPARTY" at Bally's Beach Bar! Bally's Beach Bar offering live entertainment 7 days a week and on Beach Concert days you can come party as early as 11am! Why should you join us?
FANTASTIC view of the main stage and access to nonstop entertainment throughout the day and dance floor!
Full menu / drink specials / places to sit at bar and tables
Cabanas available to rent / VIP parties welcome on the BEACH for up to 10 people, starting 11am. First come, first serve – can call 609-816-4141 every day to make the reservation. will be held up to 15 minutes after arrival time, if the guest does not show or call the cabana will be rented to another patrons.
Access to Bally's Beach Bar bathrooms 
Use the  95.1 WAYV Ecoupon for  $5.00 off admission (must have coupon) 
95.1 WAYV personalities hosting the hottest party on the boards with games/prizes all afternoon leading up to the show Plus chances to win Gold Circle Tickets!! PLUS, you're in the middle of the best afterparty spot with Bally's Wild Wild West, Mountain Bar and Boardwalk Saloon steps away.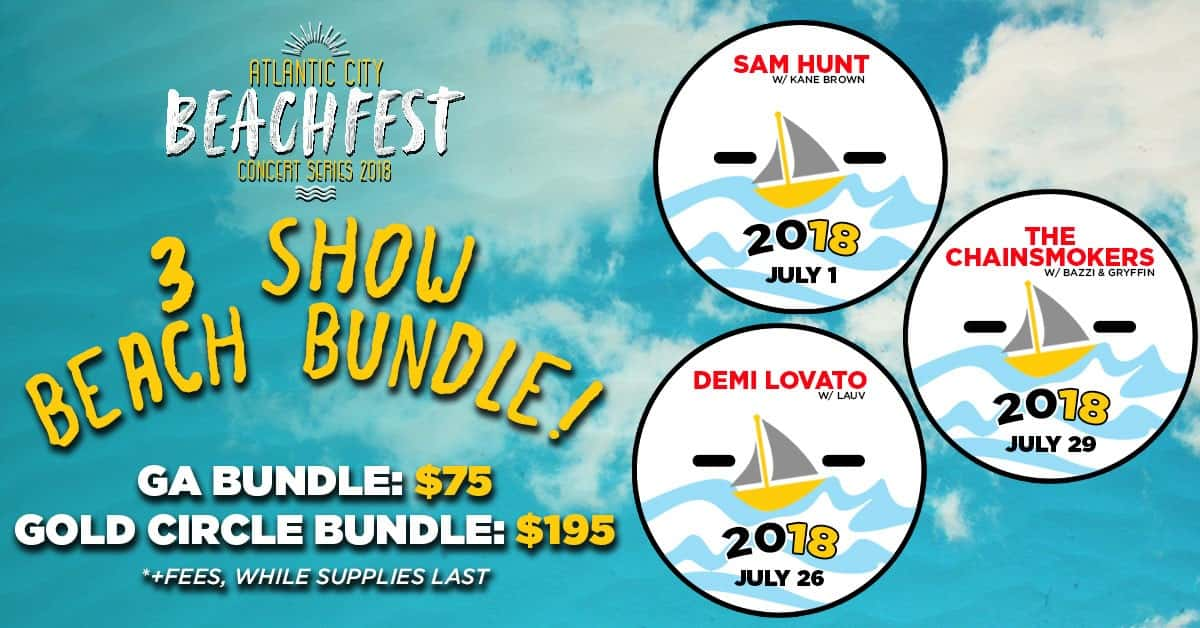 The past few years of concerts have seen capacity crowds on the beach, and this summer promises to be even bigger with fans from all over joining in on the party. The sun, sand and ocean make up the perfect backdrop for a summer concert experience.Ticket information will be made available here and LiveNation.com Additional concert information is available at acbeachconcerts.com
UPDATED PARKING OPTIONS:
The CRDA sponsored parking and special event rates include:The surface lot on the corner of Pacific and Georgia avenues (across from Boardwalk Hall, enter on Georgia Avenue) with approximately 191 parking spaces will be available.On special event days, there will be a flat rate of $10. The reduced rate for parking on a daily basis throughout the summer is $5 for up to three hours, and $10 for over three hours.
The Wave Parking Garage at Fairmount and Mississippi avenues (enter on Mississippi or Fairmount avenue) will offer 1,080 parking spaces at a cost of $10 for the day.The surface lot at Atlantic and Ohio avenues enter on Ohio Avenue) will offer 96 spaces at $10 for the day.
The surface lot at Indiana and Pacific avenues adjacent to AtlantiCare (enter on Indiana Avenue) has 243 parking spaces available on event days at a flat rate of $10 for they day.The reduced rate for parking on a daily basis throughout the summer is $5 for up to three hours, and $10 for over three hours.
The Atlantic City Convention Center parking garage, situated at the foot of the Atlantic City Expressway (enter on Michigan Avenue), will offer 1,000 parking spaces for $5 for the day. For information on additional parking options throughout the City, please click on the following link: http://www.bestparking.com/atlantic-city-parking/
ALL PATRONS AND ALL BAGS WILL BE SEARCHED EACH TIME YOU ENTER THE BEACH
. ***ANY AND ALL CONFISCATED ITEMS OR ANY ITEMS VOLUNTARILY SURRENDERED, WILL NOT BE HELD, CHECKED OR RETURNED***
**List subject to change pending artist specifications.
 ALSO please remember, "If you see something, say something"!
PERMITTED ITEMS:
Blankets & Beach Towels
Prescription Medicine. ***All prescription medicines must be in a marked bottle, along with photo matching ID.
Baby Strollers (or) Small Wagons For Toddlers.
One (1) EMPTY Water Container Up To TWO (2) Liters In Size, Per Patron
One (1) Factory Sealed Water Bottle Up To ONE (1) Liter In Size, Per Patron
Small Backpacks (school backpacks). ***No large framed packs permitted.
Camelbacks ***But they must be empty.
Personal Cameras ***NO tripods, detachable lenses, professional cameras, or cameras with recording devices, including Go Pro's.
Umbrellas — Small, Hand Held Only. ***Beach umbrellas are not PERMITTED.
Low-Rise Beach Chairs
ENCOURAGED ITEMS:
Sunscreen
Sunglasses
Government-Issued Identification
Cash, Debit Card, Credit Card
PROHIBITED ITEMS:
NO Weapons of ANY Kind ***This includes knives on key chains***
NO Illegal Drugs or Substances Of Any Kind
NO Outside Alcohol or Beverages
NO Outside Food
NO Fireworks or Sparklers
NO HIGH BACK Chairs and/or Patio Chairs
NO Coolers, Baskets, and/or Large Bags
NO Selfie Sticks
NO Glass Bottles or Containers
NO Video Cameras, (GoPros) Audio-Recording Devices, or Professional Cameras. No Tripods.
NO Drones
NO Flyers, Handbills, Posters or Stickers. ***Absolutely NO solicitation is allowed on premise.
NO Tents or Shelters
NO Flags, Totems, Large signs ***Or anything that might block someone's view.
NO Animals ***With exception of service dogs + small horses***.
NO Bicycles, Skateboards, Scooters
NO Personal Motorized Vehicles ***Unless an ADA approved device.
NO Squirt Guns, Toy Guns ***Or anything else that resembles a weapon.
NO Large Umbrellas (OR) Beach Umbrellas
NO Paint, Sharpies, or Permanent Markers
NO Glow Sticks or Laser Pointers
NO Grills
NO Selling of Merchandise, or Unauthorized/Unlicensed Vending
Tags: