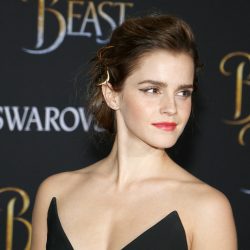 "Beauty and the Beast" set box office records with a massive $170 million opening at the U.S. box office.  It was the biggest opening ever for a PG movie.  The previous record-holder was last year's "Finding Dory", with $135 million.
It also snagged the record for best March opening . . . taking the title from "Batman v. Superman", which debuted to $166 million last March.
"Beauty and the Beast" also had the 7th best opening of all time in the U.S., and it's the second-best non-summer opening behind "The Force Awakens", with $248 million.
All this success means EMMA WATSON is going to make serious bank here.  She was paid $3 million upfront, but depending on how well "Beauty and the Beast" does, she could pocket up to $15 million.  And its total worldwide box office . . . after ONE WEEKEND, remember . . . is already at $350 million.  So she's not gonna starve.