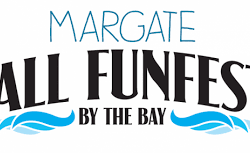 Celebrate the start of fall with two full days of amusements, entertainment on two stages, crafts and food. Margate Fall Funfest stretches along Amherst Avenue between Decatur and Coolidge Avenues. A free jitney will be operating along Amherst Avenue. Wave your hand to jump aboard or head to the Tighe School (Essex and Amherst Avenue) or to the drop off area at the corner of Coolidge and Decatur Avenues.
Rest up, we have a big party planned!
Stretching 6-blocks along Amherst Avenue, Fall Funfest will feature amusements rides, a drag race challenge, fitness demonstrations, original crafters, food trucks & stalls, and a character parade. Meet Miss New Jersey, Brenna Weick, on Saturday at 1PM!Browse the wares over 50 artisanal crafters from 11:00 AM – 6:00 PM on Saturday and from 11:00 AM – 5:00 PM on Sunday. Traditional street food meets Jersey Shore seafood. Don't pack a lunch, you won't want to miss smorgasbord at Fall Funfest!
and then there's Fall Fest After Dark….Definitely not for kids… 😉
Enjoy a free concert by the Mas Tequila Orchestra. And for just $20.00, gain admission to the wine, spirit tasting, and light food long the Washington Avenue pier and promenade. Tickets can be purchased at the pier entrance and includes a 6-sampling of your preference.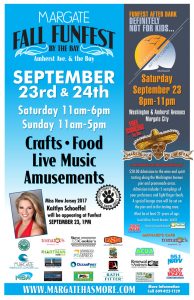 Tags: