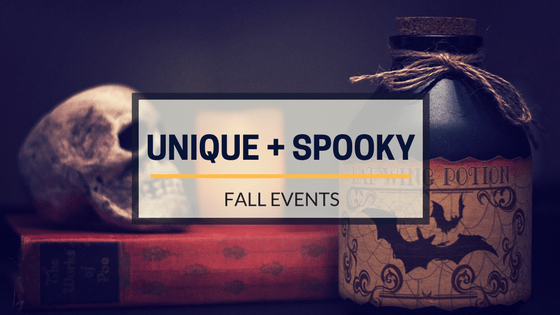 We all know there's a ton of Fun Fall Events in South Jersey. Here's a list of some of the best ones to enjoy with the whole family – if they can handle it! oooohhhhaaaaaa. If you'd like to add your event to this list, email swray@equitycommunications.net  Enjoy these SPOOKY special events!
Ghost Tours of Ocean City
Every Saturday in September 8pm-930pm
Various Tours depart from the corner of 9th St & Asbury Avenue, Ocean City, reservations required. A candlelight walking tour where that turns into "FEAR IN THE DARK"! It combines history, folklore, and ghost stories for a night of eerie fun in Ocean City's historic downtown. Tours last approximately 90 minutes. Recommend purchasing tickets by 6 pm to ensure your spot on the tour.
https://www.ghosttour.com/oceancity.html
https://www.facebook.com/events/358631005074301/?event_time_id=358631015074300
Downbeach Seafood Fest – Ski Beach, Ventnor Heights
9/7 11a-7pm (RAIN DATE SUN 9/8)
The Team at Good Time Tricycle are transforming Ski Beach into a Seafood lovers dream with about 25 different local and regional seafood restaurants who will be serving up their favorite seafood dishes!
https://www.acseafoodfest.com/schedule
https://www.facebook.com/events/603655593383374/
Harvest Brewfest Cape May
9/14 10am-6pm
FREE! It's a local secret, that September is the best time to visit Cape May and the Harvest Brewfest is a fantastic fall event  featuring craft beers, local vendors, artisians, and local bands
https://www.facebook.com/events/cape-may-mac-festivals/harvest-brew-fest/651575698612259/
Margate's FREE Fall Funfest – Amherst Ave, Margate
9/21 & 9/22 11a-5pm
More than 50 food/craft vendors with family activities, rides, contests, and music all along Amherst ave on the bayfront! Afterdark is a ticketed event on the dock at washington avenue with live music, food tastings, beer/wine. TICKETS $20
https://www.facebook.com/events/429266954336177/
Area 51 Party / Bally's Wild West / Mountain Bar
9/19 9pm-2am
You've most likely heard about the viral event where people plan to storm Area 51, right? Well Bally's Wild Wild West/ Mountain Bar is throwing their own pre-party right here at Mountain Bar. You may or may not see aliens walking around, custom space-y cocktails, and out of this world looking dancers. Live performances by StellarMojo and DJ Rashaun. No cover!
https://www.facebook.com/events/408238006473717/
Morey's Piers Oktoberfest
9/20-9/22, 9/27-29 & 10/4-10/6, 10/11-10/13
Oktoberfest festivities will take place at Mariner's Pier withith special German themed menus, an outdoor "biergarten," live entertainment, a kids "Rootbier Garten" activity area and much more. On Friday, September 20 at 5:45pm the annual festivities kick-off with a ceremonial keg tapping of Warsteiner beer, live entertainment, and the Morey family clad in lederhosen.
https://www.moreyspiers.com/event/oktoberfest
Scullville Vol Fire Co. "Terror in the Junkyard" Hayride and Maze
– Flemings Junkyard 353 Zion Rd, EHT
9/28-10/28 (Every Fri, Sat & Sun 7p-10pm)
Hayride Tickets $10, Maze tickets $5, Combo Ticket $13.00  (no group rates)
This heritage haunted hayride will have you spooked with various locals acting out famous scenes from your favorite horror films!
http://www.scullvillefire.org/
Cornfield of Terror – R and J Farm – 723 W. Herschel St. EHC
9/29-10/26 – (Every Fri, Sat & Sun )
Admission $14, Adult Combo Ticket $19, Kids 10 and under $10, Kids Combo $15.00
The Cornfield of Terror will leave you screaming for your life ! Non-scary corn maze for those that do not have enough courage or simply want to test their navigational skills in the dark with nothing but a flashlight to help guide your way though the corn. cornfieldofterror.com
Happy Hayrides
10/3 11am-5pm Storybook Land
Climb aboard the Happy Hayride, pick and decorate a pumpkin, and find your way through Elmer's Hay-Mazin' Maze.
Wildwoods Boardwalk Pumpkin Run 
10/5 Wildwood Boardwalk.
A ghoulishly fun and exciting family event for all ages. 5K & 10K run along with a 1 mile family walk, starting at 10 a.m. – rain or shine. Registration begins at 8:30 a.m. inside the Wildwoods Convention Center. Participants are encouraged to dress in their favorite Halloween costumes to vie for the prizes in the best dressed categories of Family, Youth, Infant, and Best All Around. All proceeds benefit the Lunch with Lynch Foundation and the Education Foundation of Cape Trinity Catholic.
https://wildwoodsnj.com/event/wildwoods-boardwalk-5k-pumpkin-run/
Trunk or Treat at Wimberg Funeral Home  – 1707 New Road, Linwood FREE ADMISSION
10/19 – 1p-3pm (RAIN DATE 10/20)
Join local police and fire departments as kids dressed in costume go Trick or Treating in a safe environment with face painting, safety demos and of course FREE candy. Bring a gently used book for donation. Call for more details  (609) 653-188
Witch_Craft – Lake Lenape Park
10/19 6p-10pm
Lake Lenape Park will be transformed into a mysterious wooded village of local partners serving up zesty stews and seasonal brews so magical it must be Witch-Craft. This experience is unlike any other beer festival, autumn activity or spook show.Imagine a one-of-a-kind Halloween-lifestyle extravaganza co-hosted by the original Monster Squad! With tents decked to the nines in mysterious haunt or corny charm, over 50 brew masters and distillery wizards will be pouring their classics, as well as some seasonal debuts, along an enchanting stroll throughout Lake Lenape Park East. At the end of the night, it will be up to the attendees on which tent should be awarded with "best dressed" bragging rights until next year. https://www.facebook.com/events/1283961905096309/
Annual Cape May Halloween Parade
10/20 Perry St. to Physick Estate  Cape May, NJ
(609) 884-9565
http://www.discovercapemaynj.com/events/halloween-parade
No where else in New Jersey can you see so many creative costumes parade by in such a short time. Prior to the parade, trick or treating on the Washington Street Mall will be held from Noon to 2 p.m., The Parade  begins at Perry Street and Carpenter Lane, continues down Carpenter Lane to Ocean Street, \down Washington Street and ends at the Emlen Physick Estate.
Ocean City Halloween Parade
10/24 @ 715pm-9pm
Asbury Ave. from 6th – 11th Street  Ocean City, NJ
One of the longest-running Halloween parades in the Tri-State area.
http://ocxc.org/event-2742093
Boo at the Zoo!
10/26 Cape May County Zoo 10am-2pm (RAIN DATE 10/27)
Sponsored by the Cape May County Board of Chosen Freeholder, this event is free and open to the public. Visitors of all ages are invited to wear a costume to this fun family event, which includes activities for the kids, games, candy, entertainment, animals, inflatable obstacle course, pirate ship and more. A Costume Contest will start at 11 a.m., registration begins at 10 a.m. An awards presentation will follow the Halloween costume contest with exciting entertainment and our very own ambassador animals.
https://capemaycountynj.gov/Calendar.aspx?EID=878
Halloween Party  / Mountain Bar /
10/31 Bally's Wild Wild West
Bally's Wild Wild West will transform into a fright fest halloween night! Participate in the Haunted Hollywood costume party with $2,500 in prizes featuring Garden State Radio and DJ Aiden Scott! There is only one place in AC that can provide all of this horror!
Trunk or Treat with City of AC – Bader Field, Pop Lloyd Stadium and Gardner's Basin- FREE ADMISSION
10/31 5p-7pm – Please contact Christina at (609)-347-5400 
The Trunk or Treat will be held on October 31st from 5pm to 7pm. The 3 separate locations will be Bader Field, Pop Lloyd Stadium, and Gardner's Basin.  There are many ways to participate in the Trunk or Treat event including:
Decorating a trunk and filling the trunk with candy
Donating candy
Volunteering at one of the locations
Tags: