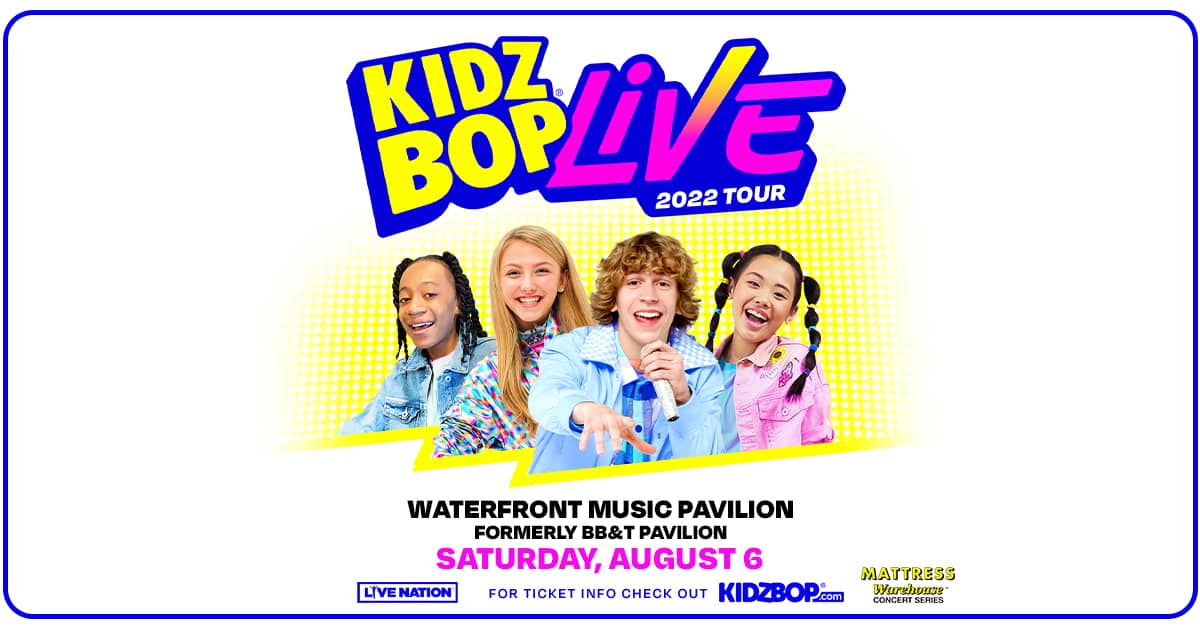 Kidz Bop Kids are coming to Waterfront Music Pavilion (formerly BB&T) on 8/6.
Listen to Mike and Diane weekday mornings or enter below for your chance to win a free pair of tickets!
KIDZ BOP is the #1 kids music brand and delivers the songs that kids love and parents can feel good about. See your Kidz Bop stars Cami, Egan, Giavanni, and Knowledge perform their top hits live. Listen to Good 4 U, Levitating, Peaches, Astronaut in the Ocean, Save Your Tears, Mood, Put Your Records On, Without You, POV, and more live! 
This is the part and the place where kids rule! Kidz Bop Kids are currently on the road and getting the party started with their all-new 'Life of The Party' tour. "Sung by kids for kids" is their mantra. And yes, the whole family will definitely enjoy all the fun, song, and dance entertainment. Their snappy dance moves, their stylish matching outfits, pulsating energy, and their out-of-this-world talent are hitting the high notes, as they render today's biggest hits, kids style. Even moms and dads are having a ball clapping, dancing, and singing-along to these talented youngsters. Your kids would surely love everything about Kids Bop Kids. Make this a great bonding moment for the whole family.
Tickets on sale at www.ticketmaster.com!